Lip Fillers in Washington DC
Typically made with hyaluronic acid, a naturally occurring substance in your body, dermal fillers for lips are an excellent treatment for restoring volume loss, plumping and hydrating your lips, and minimizing the appearance of fine lines and wrinkles around the mouth.
Lip fillers such as Restylane are safe and easily customized to your specific needs, capable of solving a variety of issues like lack of volume or lipstick lines. Lip injections are also minimally invasive and require no downtime, nor do they pose significant risk when injected by a professional.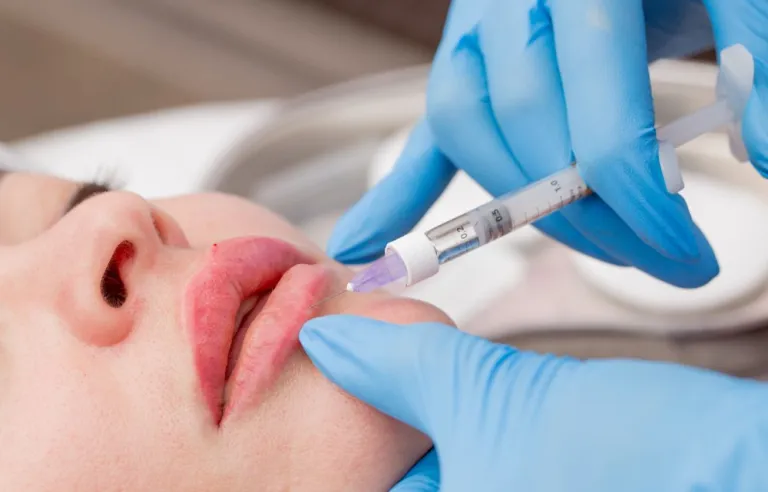 What Do Lip Filler Injections Feel Like?
Appointments are quick and easy, rarely taking longer than an hour. You'll be surprised to see how painless lip injections are as well, thanks to the numbing cream used prior to your injections. Most patients only feel a quick pinch, if anything at all.
When Will I See Lip Filler Results?
Patients sometimes experience swelling or bruising, but this is usually temporary and resolves itself within 24 hours, so don't judge your results too quickly. Your lips will immediately look fuller, healthier, and smoother after your appointment, so you won't have to wait long to enjoy your fillers.
Am I a Good Candidate for Lip Fillers?
Ideal candidates are healthy non-smokers looking to address common concerns such as asymmetry, wrinkles, and lack or loss of volume. Whether you're seeking a natural-looking pout or dramatic plumpness, lip fillers are a powerful cosmetic treatment easily personalized to your needs.
Where Is the Best Place to Get Lip Fillers in Washington?
Safe, beautiful lip fillers in Washington are a mere phone call away! The Center for Cosmetic Surgery is proud to offer personalized lip fillers for a variety of issues, helping our patients build confidence. Contact us at 202-785-3175 to schedule your consultation today!