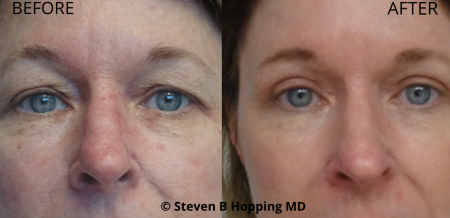 During your initial cosmetic consultation, Dr. Hopping discusses your specific condition, your expectations, the procedure and the probable outcome of treatment. You may be shown several before and after treatment photographs of patients having a similar condition.
This is an outpatient procedure at our AAAHC-certified surgical suite, the eyebrow lift is performed under local anesthesia with deep sedation, or sedation anesthesia. The surgery may take one to two hours.
After Dr. Hopping performs your eyebrow lift or forehead lift, there is a minimal amount of discomfort. Some swelling and bruising may last from seven to 10 days. As your incisions heal, you will notice some itching and possibly some numbness. These symptoms will diminish over time. You may wear make-up after three days. Your sutures will be removed in seven to 10 days. Strenuous activity is restricted for 2 weeks.
Recovery is usually one to two weeks. Results from eyebrow and forehead lift surgery tends to be long lasting. Our minimal incision eyebrow lift will give you a younger natural look without the "surprised" look associated with older techniques.