Liposuction, introduced as a cosmetic procedure 50 years ago, remains the most frequently requested aesthetic surgical procedure. It has revolutionized our ability to safely and effectively help patients with body contouring and unwanted fat issues.
our AAAHC-certified surgical suite under local and/or sedation anesthesia as an outpatient procedure. Patients lose girth, not weight, with liposuction.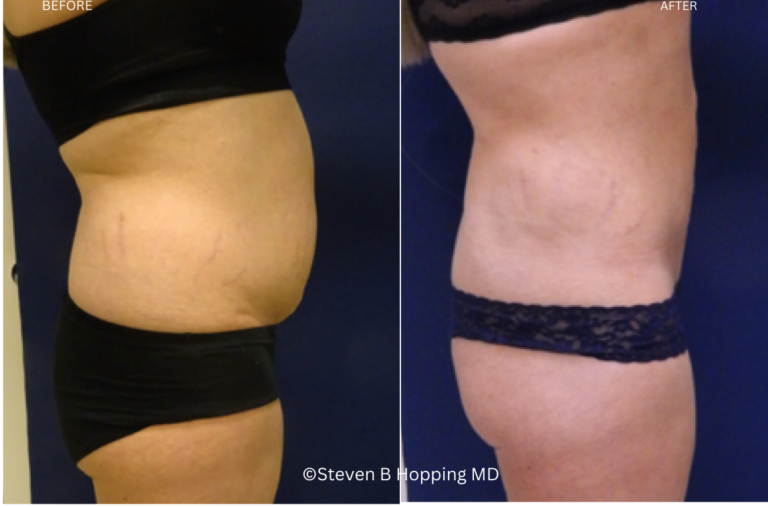 Dr. Hopping uses the latest Laser Assisted Liposuction technique. He loves the micro incisions (often no sutures required), fast recovery (often return to work in three days), and added skin tightening (up to an extra 18% according to some studies). Great for men and women.
The most common areas successfully treated by liposuction include:
Most patients return to usual activities within one week. Many patients choose to have surgery on a Wednesday and return to work on Monday with ibuprofen for mild discomfort. We recommend wearing a compressive garment at least 12 hours per day for 4-6 weeks. Bruising lasts 7-10 days. Good results can be seen at 6 weeks, but they continue to improve for 12 months.
Results can be seen within a few weeks, but final improvement can take 6-12 months. Best results occur with a moderate weight loss after the procedure. Many patients lose 2-4 inches in their waist and 1-2 inches in their arms and thighs. "I love liposuction and have had the procedure myself," says Dr. Hopping. "It's a true game changer."