The procedure minimizes neck bands, excess fat and sagging skin to contour the neckline and/or remove a double chin. Fat may also be sculpted or redistributed from the jowls and neck.
The tissue underlying the neck skin is repositioned, and the platysma muscle is commonly tightened. Skin is re-draped over the new contours, and excess skin is removed, restoring a youthful, well-defined jawline.
Often, the neck lift is combined with improving a weak chin using an implant or fat injection to provide a more dramatic improvement.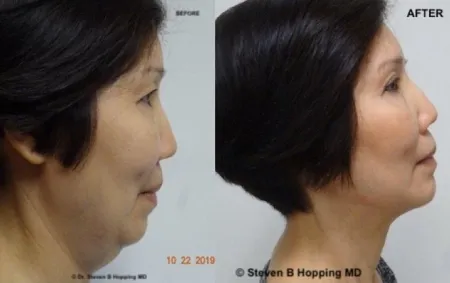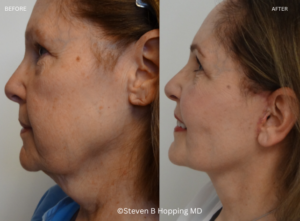 Patients have an overnight dressing and occasionally drains, which are removed the next day. A neck support is worn at home for 1 week. Sutures are removed after 10 days. After two weeks, most patients can function normally but may still have some residual bruising or swelling. Most patients return to work in 1-2 weeks.
Neck Lift Expected Results
The goals of a neck lift are a contoured appearance with a better-defined jawline, a reduced double chin and a more youthful look. Neck lifts results usually last 5-8 years.
"A person's neck and jowls age faster than the rest of their face," says Dr. Hopping. "Nothing is as attractive as a tight, youthful neckline without that double chin or excess flabby skin. I have had a neck lift myself. My only regret is that I did not do it sooner!"