A direct brow lift removes redundant skin above the eyebrows giving a more youthful, alert appearance. This short procedure often gives dramatic, long-term results. The incisions are hidden in the brow. Dr. Hopping's Direct Brow Lift can be performed under local or light sedation anesthesia and is often combined with eye and face rejuvenation.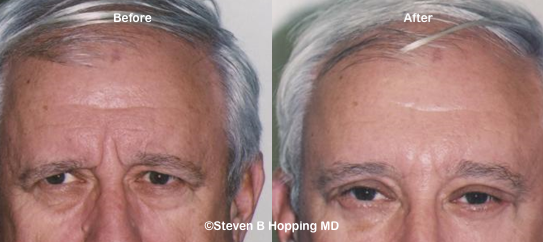 Discomfort is minimal with a Direct Brow Lift and bruising is generally gone 7-10 days post-op. Makeup or an eyebrow pencil may be used for camouflage during the early weeks of healing.
The brow lift is a small procedure with a big impact. The improvement is often dramatic, especially when combined with eyelid rejuvenation.
"Results are long-lasting and the procedure not only corrects a droopy brow but often helps light up the eyes," says Dr. Hopping. "I love this procedure for both men and women."